Lakes Region
Pumalin Park: Kayaking - 4 ,6 or 7 days - Hard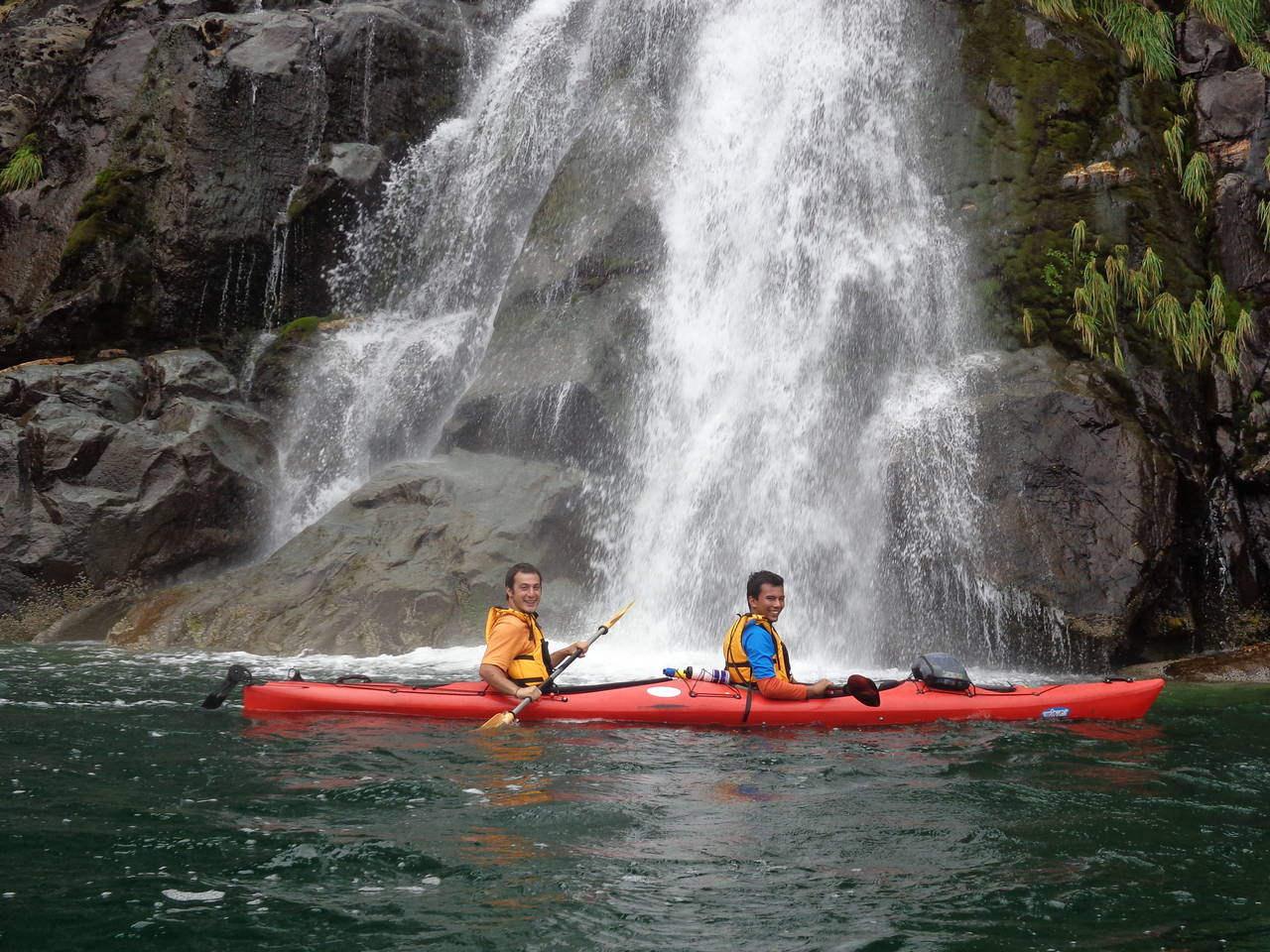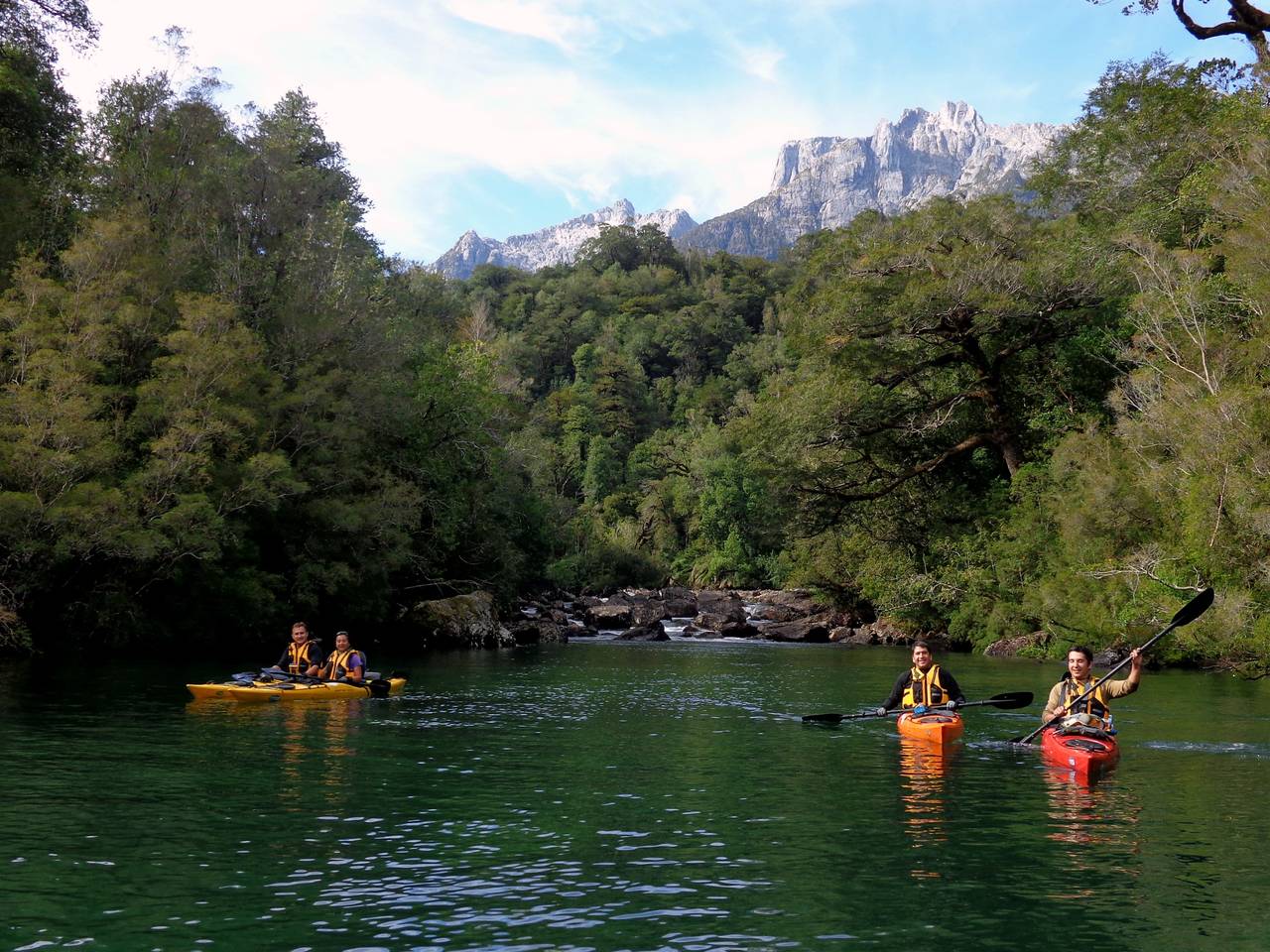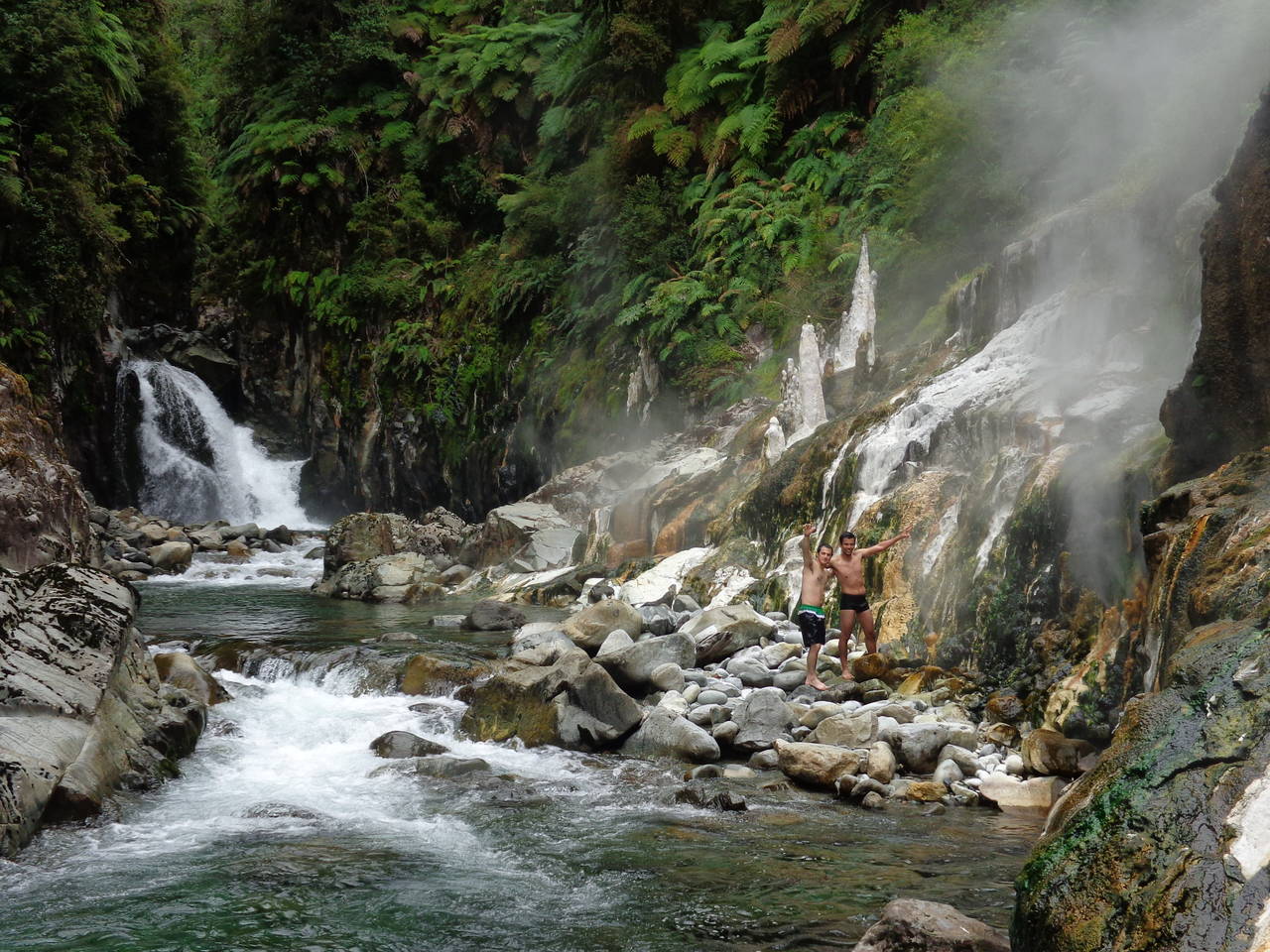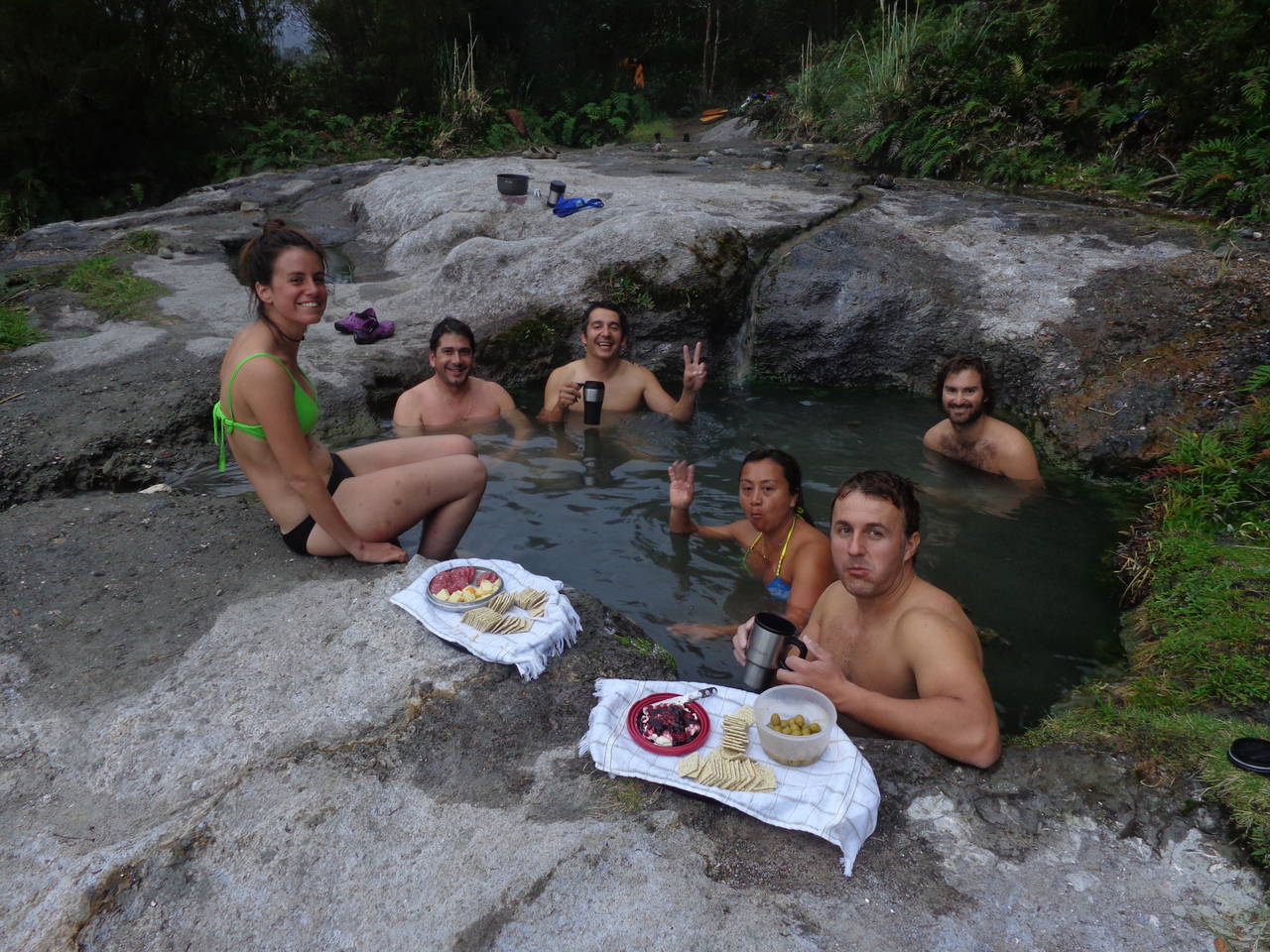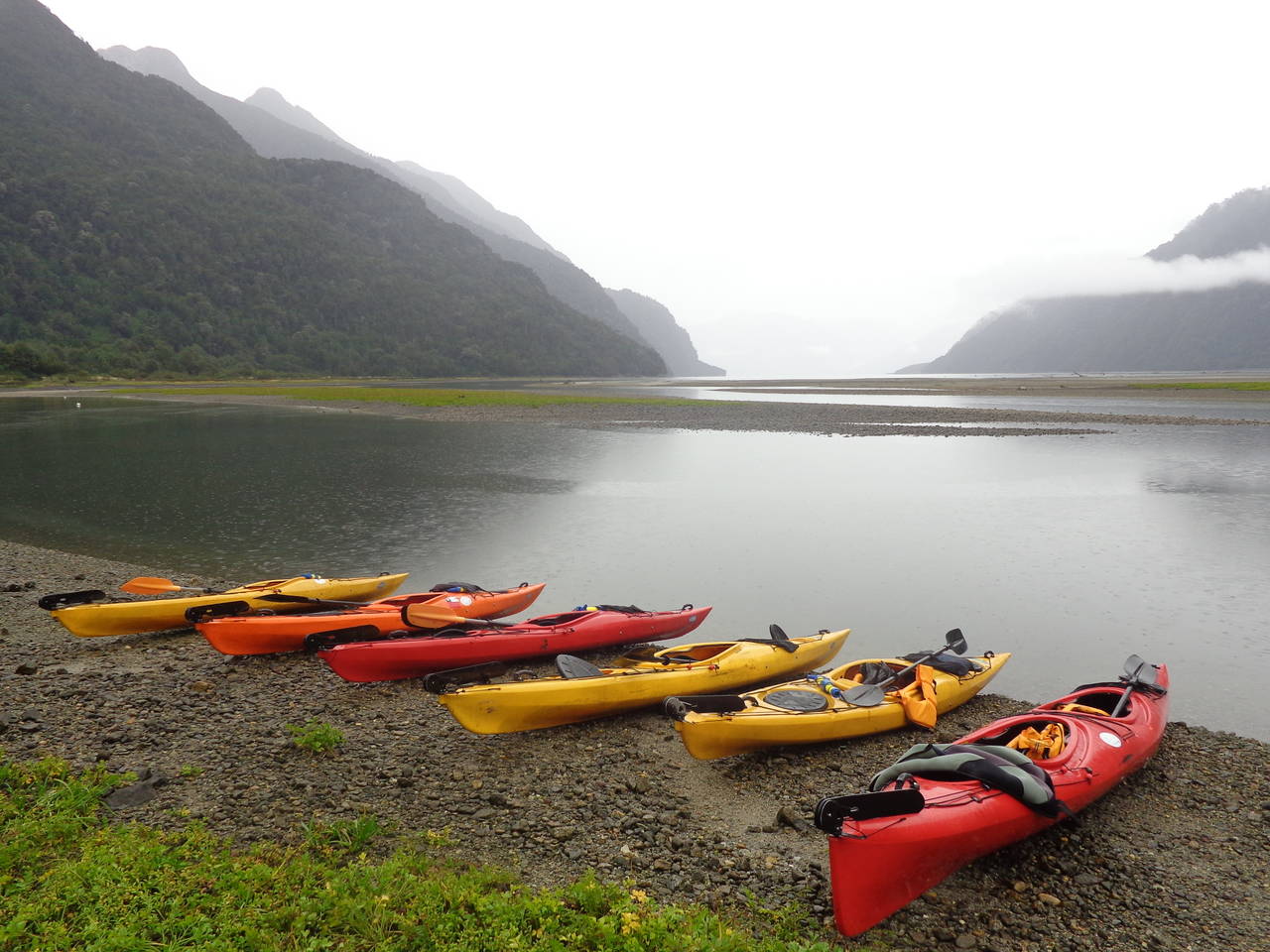 At the south of Puerto Montt city the Chilean land spreads in thousands of islands and fjords.
The northern fiords of Patagonia are immerse in the huge Pumalin Park of 1255 square miles. This fjords are the perfect place to paddle. Without any land access, this fjords has been preserve along the centuries and still now it is a pristine and wild area with an amazing natives forest (cold jungle), wild rivers and lot of back wood hot springs.
Also this fjords are well protected from the storms of the pacific ocean creating the perfect conditions to paddle. Also you will enjoy hikes into the cool jungle, meet friendly local villagers and sample their exotic food and tasty lamb on a stick, or simply marvel at the granite mountain walls, geysers, and glaciers at the top of the mountains.
This tour will amazed you with idyllic beaches, dolphins and sea lions. Also is possible practice fly fishing in lonely rivers.
Hours per day based in a full expedition of 7 days (ask for shorter itinerary: Day 1: 2 / Day 2: 3.5 / Day 3: 5 / Day 4: 6 / Day 5: 4 hours of hiking round trip / Day 6: 1.5
---
Transportation time
3,5 hours of transportation on the car from Puerto Montt / Puerto Varas to the starting point.
---
Technical data
Miles covered each day: Day 1: 2 / Day 2: 10 / Day 3: 16 / Day 4: 17 / Day 5: 6 round trip (hiking ) / Day 6: 4
---
Season
September to April
---
Requirements
Age of participants must be between 14 to 75 years old. Physical and medical condition must be compatible with activity (When in doubt, please ask). Know how to swim. Previous sea kayaking experience not required but recommended.
Itinerary
The times below are an approximation of the schedule. These times could vary depending on weather and the speed of your group. A more accurate pick -up time will delivered once we receive your pick -up address obtained through the booking process.
Available alternatives: 4, 6 and 7 days
Day 1: Puerto Montt - Cholgo - Llancahue Island - Cholgo
Pick Up from Puerto Montt or puerto Varas at 8:00 am. We´ll drive through the beautiful Austral Highway, among mountains, bays and forests to Cholgo, were we will establish our first camp. At Cholgo we´ll have a safety meeting and basic kayak notions class. We´ll paddle towards the Llancahue Island, crossing the Comau Fiors, taking a first experience on kayaking on this easy day.
Day 2: Cholgo - Comau Fiord - Quintupeu Fiord
Morning paddle to the south with views of the Volcanoes Yates (north) and Michimahuida (south). Beautiful and dense forest on the shores. Later we will go through the narrow entrance of the Quintupeu Fiord, were we will be amaze by aterfalls and huge granite walls cover in native forest. Camping at the end of the fiord.
Possibilities of fly fishing by the river (fishing gear not included).
Day 3: Quintupeu Fiord - Cahuelmo Fiord
Morning exit of the Quintupeu fjord through the opposite shore, with different waterfalls and natures surprises. Probably some dolphins will swim on our sides. We´ll get back to the Comau Fiord and the we will enter the Cahuelmo Fiord, wich will impress us with its massive granite walls and the idyllic hot springs that will wait for us by the shore at the end of the fjord. This fjord also stands out by the wide variety of its birds (eg. cormorants, king fisherman...) . Camp number 3 by the hot springs.
Day 4: Cahuelmo - Geysers (Porcelana Chica)
(Return Day to 4 Day Program)
From Cahuelmo we will head out to Comau Fiord, and then cross to the west shore, which will provide us views of waterfalls, ancient native forest and big far glaciers. We will stop and camp at the place of a friendly local pioneer family who will welcome us with local organic products and a classic lamb on a stick (or another typical food).
Day 5 - Alternatives: a) or b)
a) Hiking to Geysers + Geyser Hot springs
(Only recommended for people with good physical health) Beautiful hike through the dense native forest that goes along a big river. We will go over several hanging bridges, fixed ropes and we will have to make a fun river crossing. We will get to a surprising area of geysers in the middle of the forest. On the way back we will stop for a hot bath on the hot springs.
(Last day of activities on the 6 day program choosing option a). The 6th day is a return day.)
b) Porcelana Hot springs
A short paddle and a 10 minute trek will take us to an incredible river of thermal water. Different natural pools along the forest and a big cold river very close.
(Last day of activities on the 6 day program choosing option b). The 6th day is a return day.)
Day 6: If you decided to take the 7 day program we will do whichever alternative (a or b) you didn't choose for Day 5.
Day 7: Return Day
Return from Porcelana Chica to Cholgo lasts 3 hours by boat. Very scenic trip with a different perspective than kayak.
(This will be Day 4, 6 or 7 depending on the program you choose.)
Warning:
This activity could include paddling in windy conditions as well choppy water, driving by land roads with projections, sudden changes of weather, paddle under strong sun.
Schedule may change due to worsening in weather.
Departure hours do depend on ocean tides, so an early wake up is possible.
Guides have the last call in critical decisions and required cooperation of every client.
Paddling hours are estimates based on the average client and will depend on the strength of the group and the climate conditions.
Guides are at your service, but cooperation will be needed in group tasks such as camp building, cooking and kayak carrying.
What's included
Private transportation from Puerto Varas or Puerto Montt.
Complete sea kayak gear: kayak, paddle, life jacket, dry bags, spray skirt, bilge pump
2 Guides trained in sea kayaking and with first aid
Every breakfast, snack and meal needed during the trip.
Lamb on a stick or "curanto al hoyo" in Porcelana Chica
Smoked Salmon (or other local food) in Porcelana Chica
Return boat transportation from Porcelana Chica to Cholgo
Park, hotspring, geysers and camp fees.
First aid kit
VHF Radio and Satelital Phone
What's not included
Transport to Puerto Varas or Puerto Montt
Personal Clothing (Please check "Gear")
Personal Insurance
Sleeping bag and sleeping pad (rental available)
What to bring:
Download recommended personal gear list aquí (ask for english version). Rental available in sleeping bag, sleeping pad and some other items.